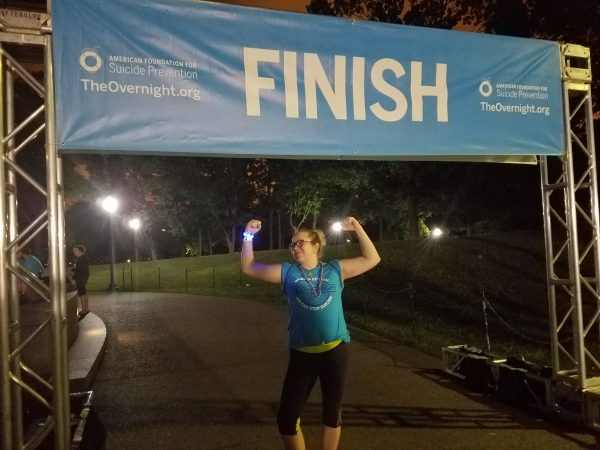 Up All Night for Suicide Prevention:
AFSP Overnight Walk
by Lindsey Turnbull
Twice now, I have walked 16 miles with 1,500 friends, in/visibly bound together, through Washington, DC and Philadelphia, PA, from 8 pm to 5 am for the American Foundation for Suicide Prevention as a way to bring mental health and suicide awareness "out of the darkness."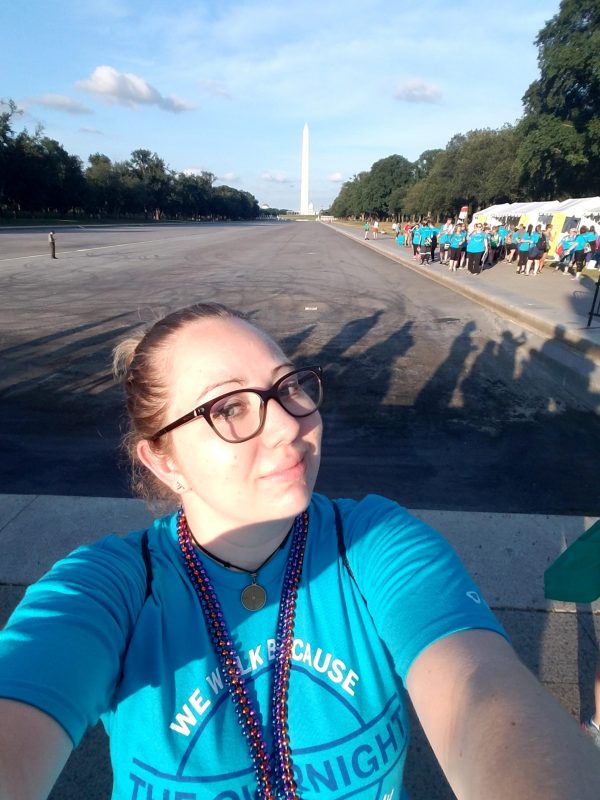 Not only did my own community TURN OUT and donate $1,000 in less than a week for Suicide Prevention (TWICE!), I found comfort in strangers for the first time ever.
As part of the walk, participants decorate luminarias in honor of loved ones lost to suicide and personal struggles, and wear honor beads, each color representing a different struggle or loss. When we pass someone on the we don't see their inner personal struggle, or know that they lost a parent or sibling to suicide. The honor bead ritual bound 1,500 walkers together, putting their loss and triumphs on display, a visible community, created of grief, and loss, and hope, for one night.
I have never done something so tangible and visible as the Suicide Walk. I have never been bound, together with 1,500 others who have similar losses. We wore matching shirts, beads, and light up bracelets. We were sweaty and achy and laughing and solemn. We stood out in the silent neighborhoods and the club going DuPont. It is something almost freeing to say "hey, someone close to me lost his life to suicide, and I too have struggled with depression."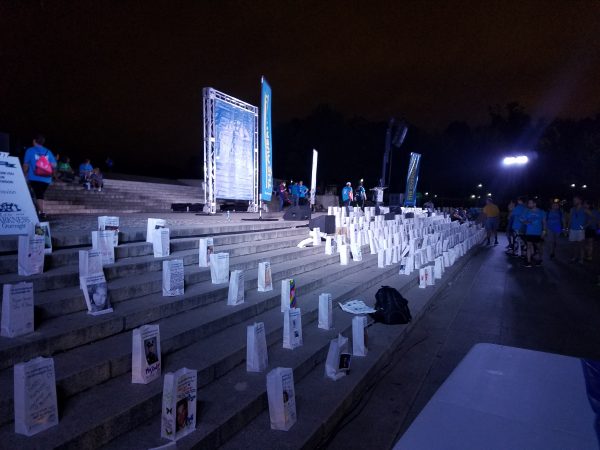 Like, so often we forget that we are not alone, that suicide and depression are not unique to us. We do not talk enough, and not openly enough about this, so that we feel even more isolated. I had to print out an updated list of my donations, and I noticed that almost half of mine were anonymous. They have to be people I know, because how else would they hear about my fundraiser? So, even when we're talking about it, we're not talking about it (I empathize, and I appreciate your support, and I hope that you are able to seek out the support you need).
Seeing white beads, noting the loss of a child, almost instantly set me in tears. While I lost adults, I simply cannot imagine the grief  and guilt and tragedy of raising this teeny human his or her whole life, and then losing them to suicide. I met a family- mom, dad, grandpa, siblings, partners, who have walked together for four years, since the loss of their daughter. At the closing ceremony, a couple carried their sons water bottle and spoke of their luminaria as if he were in it. He died in 2005.  Personally, it took me nearly 12 years to participate. Seeing their grief so bold and open…was painful and honest and powerful. I don't know how they go about their lives. I guess after 12 years, I should. I wanted to hug them and tell them that it never goes away, but it gets easier, and the hurt gets smaller and more distant.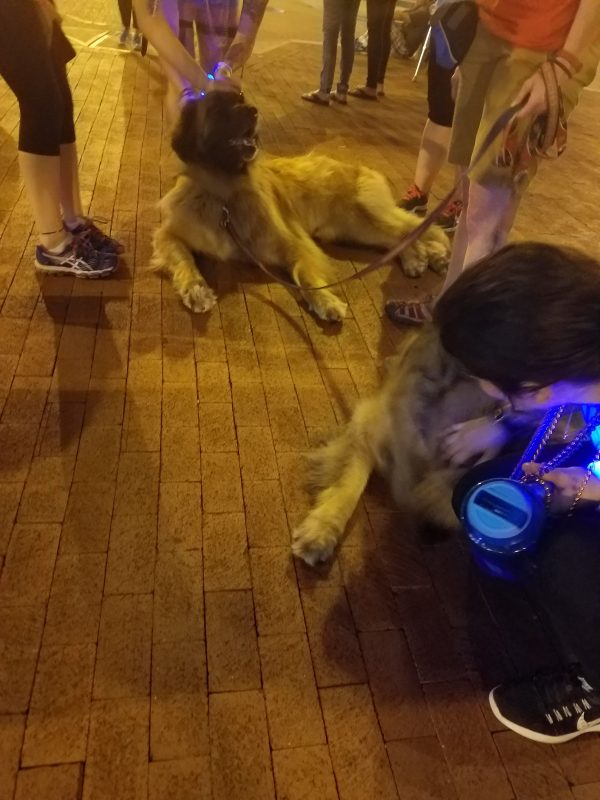 I walked with all sorts of people, usually silently. The first seven miles I walked with a friend who was walking for overcoming her own personal struggles. It wasn't until the last three miles or so that I really started to feel rough. I spent those talking to a woman who shared my mom's name, because, of course. We talked about our lives, our jobs, our friends, and mental health in general, but never once about who we walked for. We crossed the finish line together at 4 am.
Strangers stood in cheering sections. Volunteers worked all night, handing out food and water, providing medical support, and guiding us. Someone in Dupont, dressed in a tailored suit, shook everyone's hand that passed. I think in that moment it really hit me what it meant to bring suicide "out of the darkness." Even my Uber driver wanted to join next year.
At 5 am, we gathered again to drink coffee and bandage our feet and spend our last moments together as a community, 1500 strong (plus v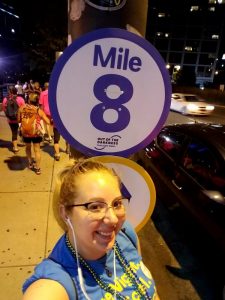 olunteers), bound together through our common losses and struggles.
Around 5:30am, our community dissipated. I know I will carry the experience with me forever. I am proud to have walked for my father, and more recently a family friend, and for all the names on my luminaria, of friends who have lost, and for everyone else who has suffered in silence. My temporary pain and discomfort was a small price to pay to participate.
The second year I walked, I had a much better idea of what to expect. That year, the event felt more personal, and while I did talk to people, I mostly walked alone while listening to my favorite Audiobook. I walked through the streets of Philadelphia, taking time to admire the Liberty Bell, the country's oldest neighborhood, and of course, the Rocky steps. Small kids (supervised by their grandpa) offered walkers huge and high fives at Love Park.
The Philadelphia overnight walk was closer to 18 miles, and at the end of the night,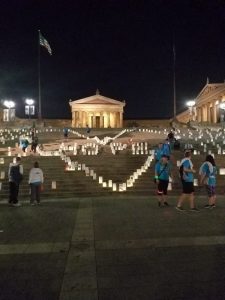 I laid right on the Rocky steps, waiting for the final ceremony.  I talked to a woman, who like I once did, had some major questions about the death of her loved one. As it turned out, she wasn't an official participant- she simply showed up and walked to see how she felt about it. I hope she got the answers she needed. 
As for me, doing the Overnights has been a beautiful, community-building, powerful. event. Those nights gave me space to reflect, connect, and simply sit with my own grief and questions. While I may never get any concrete answers, I am finally shedding the stigma attached to suicide and I am able to say that I lost a family member to suicide.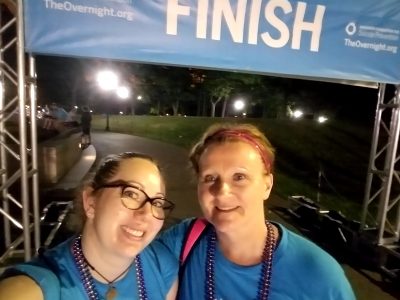 To everyone who walked with me, supported me: Thank You. Thank you from the bottom of my heart. I am so privileged to be a part of these communities, visible and invisible, temporary and long-lasting. I am sorry that grief has brought us together, but I am so happy we belong to one another.
<3
Related Reading
Lindsey's Story: May is National Mental Health Month by Lindsey Turnbull
Suicide Prevention Month by Lindsey Turnbull
When Dance is Not Enough by Arielle Dunn