Suicide Prevention Month
by Lindsey Turnbull
DYK: September is Suicide Prevention Month? Why is this important? Here are some shocking statistics from the International Association for Suicide Prevention:
Every year, over 800,000 people die from suicide; this roughly corresponds to one death every 40 seconds.
In addition, experiencing conflict, disaster, violence, abuse, bereavement or loss and isolation are strongly associated with suicidal behavior.
Suicide rates are elevated amongst vulnerable groups who experience discrimination, such as refugees and migrants; indigenous peoples; lesbian, gay, bisexual, transgender, intersex (LGBTI) persons; and prisoners.
Based on the 2017 National Survey of Drug Use and Mental Health it is estimated that approximately 1.4 million adults over 18 made at least one suicide attempt. Adult females reported a suicide attempt 1.4 times as often as males. Numbers are believed to be higher, but unreported due to stigma surrounding mental health and suicide.
Based on the same survey, 7.4% of youth in grades 9-12 reported that they had made at least one suicide attempt in the past 12 months. Female students attempted almost twice as often as male students (9.3% vs. 5.1%). Black students reported the highest rate of attempt (9.8%) with white students at 6.1 percent. Approximately 2.4 percent of all students reported making a suicide attempt that required treatment by a doctor or nurse. For those requiring treatment, rates were highest for Black students (3.4%).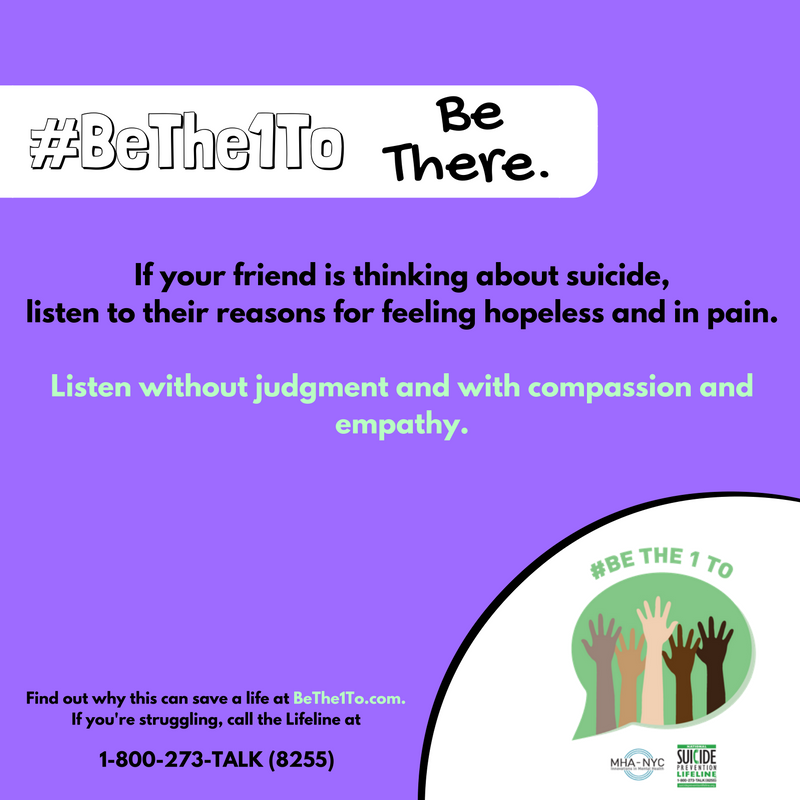 Any instance of suicide is a tragic loss of life. Even one suicide is too many. Many stigmas remain surrounding mental health and suicide, so sometimes people who may be suffering do so in silence. This means some people who are considering suicide are feeling isolated and alone.
BUT, you can help prevent suicide. It can be as simple as reaching out to a friend. Call up a friend or family member and ask how they're doing. Listen to what they have to say, in a non-judgmental way. Let them know you care! It can really be that simple. Your seemingly small actions could save a life!
Here are some more ideas to prevent suicide:
1. Write someone a letter telling them why they are great, or send them a #YouMatter card. Here are 60 ways to show someone you care, from our friends at MSW@USC.
2. Learn the warning sides of suicide and encourage someone who needs it to get help. The provided link has some conversation starters, if you're not sure where to begin. There is also a specialized guide for teenagers who may be, or may know someone, coping with suicidal thoughts.
3. Don't make deals. If someone you know is suicidal, don't keep it a secret. Tell someone!
4. Don't assume someone talking about suicide is overreacting to something. Learn the myths about suicide and get the facts. Suicide can affect anyone, regardless of race, age, sex, gender, religion, socio-economic status, etc. Do not ignore someone who is threatening suicide!
5. Make a safety plan. Make a plan, by yourself, or with a counselor to follow if you are having suicidal thoughts.
6. Put together a PSA, or use social media to let people know you are available to listen. Get a toolkit and see how you can make a difference.
7. Ask for help. Encourage your friend to reach out for help. Offer to be there for them when he or she tells a trusted adult. If they refuse to seek help on their own, it's OK to ask for help on their behalf—reach out to your resource staff at school, talk to your parents, or call the suicide hotline at 1-800-273-TALK (1-800-273-8255). Don't worry that they may be upset with you; the goal is to save their life. Once they seek help and start the road to recovery, they will be thankful for your support. (From last year's WSPD post.)
I'm in crisis or am experiencing difficult or suicidal thoughts: National Suicide Hotline 1-800-273 TALK (8255)
I'm looking for more information, referrals or support: NAMI HelpLine 800-950-NAMI (6264)
According to IASP, reaching out can make a HUGE difference for someone who may be considering suicide.
• Reaching out to those who may be struggling or may have become disconnected from others and offering support can be a life-saving act.
• Reaching out involves active listening and engaging with a person in a non-judgmental and supportive way.
• An important aspect of reaching out also involves linking people to relevant professional services to ensure appropriate care and follow-up for that person.
You can make a difference in someone's life, just by reaching out to say "how are you" or "I appreciate you."
Additional Resources:
Related Reading
Mental Health 101: An Overview by Lindsey Turnbull
Mental Health 201: Anxiety and Depression by Lindsey Turnbull
VIDEO: 5 Things NOT To Say When a Friend Opens Up About Mental Health