Resilience, Failure, and Confidence: The Running Start Resilience Summit
Quotes on bouncing back, staying the course, and being adaptable
by Lindsey Turnbull
Last week, I attended the first (annual?) Resilience Summit hosted by our friends at Running Start, a nonpartisan political leadership program for girls. The Summit, hosted by the Canadian Embassy, focused on themes like facing failure, feeling confident, and pushing through major life changes and unexpected shifts.
The half-day Summit featured incredible speakers, including members of Congress, actresses, business owners, Running Start alums, and activities and open mic portions so everyone could participate. The day wrapped up with a reception in the lobby, featuring MP Celina Caesar-Chavannes delivering a powerful, funny, and inspiring speech. Here are my favorite quotes from the day (one from every speaker)!
Members of Congress spoke about being in the public eye, where failure is documented, public, and attached to them for their whole lives.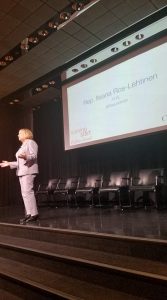 "It is always the right time to do the right thing."
-Ileana Ros-Lethinen R-FL @RosLehtinen
"Embrace who you are. It makes you more effective."
-Debbie Dingell D-MI @RepDebDingell
"Do something meaningful…and hard."
"When I was in the CIA, when I was working and studying, my best officers and mentors were always women, because they got more people involved in processes."
-Will Hurd, R-TX @HurdontheHill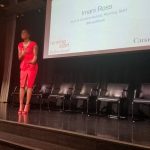 Running Start alum Imani Ross shared some great insights, urging against "the urge to sit in failure, alone and in private."
"You never know what you're capable of until you do it."
"You're still the perfect person to do the work."
-Imani Ross, Running Start alum and activist @ImaniRossL
#ILookLikeaPolitican ambassador Cierra Jackson hosted a panel featuring women in business, who shared their experiences in facing obstacles and challenges at work and in business. 
"If you ever say that somebody outta do something…that someone is you."
-Marla Blow, CEO FS Card @Marla_Blow
"Imagine yourself wildly successful."
"People may be afraid when you do something that challenges their perceptions- it comes from love- but don't let it hold you back."
"Keep trying. Your next opportunity might be the SAME one that originally told you no."
-Jeunesse Wright, Agent & Owner, State Farm
"Know your information, inside and out, so no one can say that you don't."
-Mary Palkovich, VP Consumers Energy @ConsumersEnergy
"If I'm comfortable, I am not learning."
"Be scared. Do it anyway."
-Nishita Henry, CIO Deloitte @NishitaHenry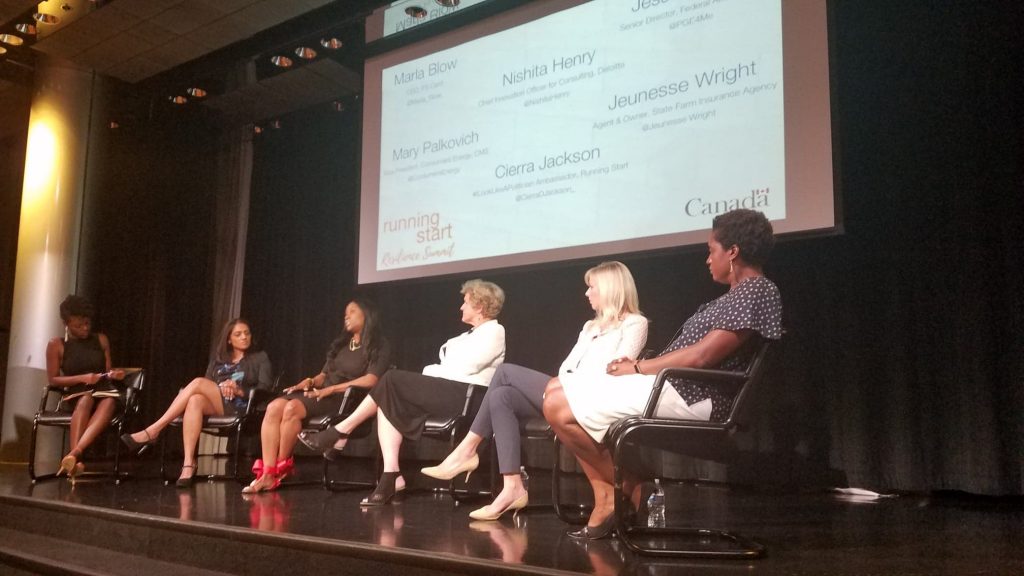 "Fear can be a motivator. It can be good or bad. Don't let it stop you."
-Jessica Hogle, Senior Director, PG&E Corporation
"What is for you, will always come to you."
-Cierra Jackson @CierraDJackson_
The rest of the afternoon gave space for other prominent, public people- actresses, activists, founders- to share their stories of failure and resiliency.
"I regret when I let fear stop me from taking a risk."
"If I thought my ideas had to be better than everyone else's, I'd never do anything."
"The failure is in not getting up…a new path opened and I had the opportunity to create a life I never could've imagined."
"Fear of failure has never vanished. I carry it with me as I do. As long as I act in service of others, there is no failure."
"Empathy, love, passion, and energy can change the world."
-Melissa Fitzgerald, Director, Advancing Justice Initiative, NADCP @MaffyFitz
"You got to where you are because of other women."
"Resilience is a movement- and it's never more powerful than a group of women who refused to be silenced."
"You know when you stub your toe, and in that moment, you can't think of anything else and you don't want to talk to anyone? Facing oppression is like stubbing your toe, every minute of every day, and you don't want to negotiate with anyone any more."
"I'm not doing my job as an ally unless I'm willing to fail- take discomfort as an opportunity."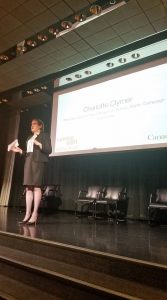 "Planting trees you'll never get to sit under is the purest form of resilience. Let's plant forests."
-Charlotte Clymer, Press Secretary for Rapid Response HRC @CMClymer
"I had to stop encouraging others to do things I did not have the courage to do."
"Show up as who you are and allow yourself to be seen."
"You can dream new dreams. Give yourself permission to let old dreams go and start over."
"If you didn't care what people thought of you, what would you do? I let go of everything that doesn't serve me, and I am putting that energy into myself."
-Rebecca Thompson, VP Deliver Strategies
Finally, some closing thoughts from Running Start alums, ambassadors, and executives
"You belong in every space that you enter."
Reniya Dinkins, RS Intern Coordinator @ReniyaSDinkins
"We compare ourselves to what we believe something or someone is, and we kill our own dreams."
-Cierra Jackson, #ILookLikeaPolitician RS Ambassador
"We all have the power to be great."
-Susannah Wellford, RS President and Founder @SusannahWDC
And as a bonus, an excerpt from MP Celina's speech! Her ten keys to life: 
1. Work hard party harder. I paint my nails every night bc no one asks me to do anything.
2. If you dont ask, you dont get.
3. To who much is given, much is expected. Tell your stories. 
4. Never take the first offer.
5. Sometimes you have to suck it up a little bc what you get is greater than what you give up.
6. If you think about something twice, thats once too many. Outsource yr probz.
7. If it doesnt make you wanna vomit its not worth doing.
8. The rolling stone gathers no moss. Keep moving and gather no doubt.
9. Nothing truly meant for you can pass you by.
10. Go big or go home. Nobody has time for smallness.
EXTRA Bonus: The butterflies in your stomach are actually cheering for you.
Related Reading
13 Inspiring Quotes by Girls & Women to Brighten Your Day
The Quotable Mackenzi Lee, The Lady's Guide to Petticoats and Piracy