Black History Month Reading List
One way to celebrate Black History Month is by reading Black authors! The choice is yours: YA, non-fiction, classics, sci-fi, memoir, poetry, fantasy, comics, and more- there are many amazing Black authors out there that deserve a spot on your TBR list in February and beyond. Celebrate Black stories and voices!
Here are some books I've read and loved (and am ANXIOUSLY waiting for sequels!) and some that are on the TBR list!
The Classics: 
Maya Angelou: I Know Why the Caged Bird Sings
"Here is a book as joyous and painful, as mysterious and memorable, as childhood itself. I Know Why the Caged Bird Sings captures the longing of lonely children, the brute insult of bigotry, and the wonder of words that can make the world right. Maya Angelou's debut memoir is a modern American classic beloved worldwide." – from Amazon.com
Octavia Butler: Kindred
"Dana, a modern black woman, is celebrating her twenty-sixth birthday with her new husband when she is snatched abruptly from her home in California and transported to the antebellum South. Rufus, the white son of a plantation owner, is drowning, and Dana has been summoned to save him. Dana is drawn back repeatedly through time to the slave quarters, and each time the stay grows longer, more arduous, and more dangerous until it is uncertain whether or not Dana's life will end, long before it has a chance to begin."
Zora Neale Hurston: Their Eyes Were Watching God
"It is considered a classic of the Harlem Renaissance of the 1920s. The novel explores main character Janie Crawford's "ripening from a vibrant, but voiceless, teenage girl into a woman with her finger on the trigger of her own destiny." – NEA
Toni Morrison: The Bluest Eye
"The novel takes place in Lorain, Ohio (Morrison's own home town), and tells the story of a young African-American lady named Pecola who grows up during the years following the Great Depression. Set in 1941, the story tells that due to her mannerisms and dark skin, she is consistently regarded as "ugly". As a result, she develops an inferiority complex, which fuels her desire for the blue eyes she equates with "whiteness".
The point of view of the novel switches between various perspectives of Claudia MacTeer, the daughter of Pecola's foster parents, at different stages in her life.
Its controversial topics of racism, incest, and child molestation have led to numerous attempts to ban the novel from schools and libraries." – TIME
Contemporary Non-Fiction
Marley Dias: Marley Dias Gets It Done and So Can You! 
"Marley Dias, the powerhouse girl-wonder who started the #1000blackgirlbooks campaign, speaks to kids about her passion for making our world a better place, and how to make their dreams come true! In this accessible guide with an introduction by Academy Award-nominated filmmaker Ava DuVernay, Marley Dias explores activism, social justice, volunteerism, equity and inclusion, and using social media for good. Drawing from her experience, Marley shows kids how they can galvanize their strengths to make positive changes in their communities, while getting support from parents, teachers, and friends to turn dreams into reality."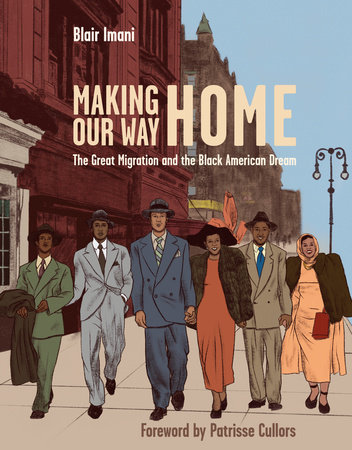 Blair Imani: Making Our Way Home
"Making Our Way Home explores issues like voting rights, domestic terrorism, discrimination, and segregation alongside the flourishing of arts and culture, activism, and civil rights. Imani shows how these influences shaped America's workforce and wealth distribution by featuring the stories of notable people and events, relevant data, and family histories. The experiences of prominent figures such as James Baldwin, Fannie Lou Hamer, El Hajj Malik El Shabazz (Malcolm X), Ella Baker, and others are woven into the larger historical and cultural narratives of the Great Migration to create a truly singular record of this powerful journey." – Penguin Random House
Lynda Blackmon Lowery: Turning 15 on the Road to Freedom
"As the youngest marcher in the 1965 voting rights march from Selma to Montgomery, Albama, Lynda Blackmon Lowery proved that young adults can be heroes. Jailed eleven times before her fifteenth birthday, Lowery fought alongside Martin Luther King, Jr. for the rights of African-Americans. In this memoir, she shows today's young readers what it means to fight nonviolently (even when the police are using violence, as in the Bloody Sunday protest) and how it felt to be part of changing American history."
Adaobi Tricia Nwaubani: Buried Beneath the Baobab Tree 
"A new pair of shoes, a university degree, a husband—these are the things that a girl dreams of in a Nigerian village. And with a government scholarship right around the corner, everyone can see that these dreams aren't too far out of reach.
But the girl's dreams turn to nightmares when her village is attacked by Boko Haram, a terrorist group, in the middle of the night. Kidnapped, she is taken with other girls and women into the forest where she is forced to follow her captors' radical beliefs and watch as her best friend slowly accepts everything she's been told.
Still, the girl defends her existence. As impossible as escape may seem, her life—her future—is hers to fight for."
Michelle Obama: Becoming
"In her memoir, a work of deep reflection and mesmerizing storytelling, Michelle Obama invites readers into her world, chronicling the experiences that have shaped her—from her childhood on the South Side of Chicago to her years as an executive balancing the demands of motherhood and work, to her time spent at the world's most famous address. With unerring honesty and lively wit, she describes her triumphs and her disappointments, both public and private, telling her full story as she has lived it—in her own words and on her own terms. Warm, wise, and revelatory, Becoming is the deeply personal reckoning of a woman of soul and substance who has steadily defied expectations—and whose story inspires us to do the same." –BecomingMichelleObama.com
Elaine Welteroth: More Than Enough: Claiming Space for Who You Are (No Matter What They Say)
"Throughout her life, Elaine Welteroth has climbed the ranks of media and fashion, shattering ceilings along the way. In this riveting and timely memoir, the groundbreaking journalist unpacks lessons on race, identity, and success through her own journey, from navigating her way as the unstoppable child of an unlikely interracial marriage in small-town California to finding herself on the frontlines of a modern movement for the next generation of change makers.
Welteroth moves beyond the headlines and highlight reels to share the profound lessons and struggles of being a barrier-breaker across so many intersections. As a young boss and often the only Black woman in the room, she's had enough of the world telling her—and all women—they're not enough. As she learns to rely on herself by looking both inward and upward, we're ultimately reminded that we're more than enough." – From Amazon
Various (all-star) authors, edited Ibi Zoboi, Black Enough
"Edited by National Book Award finalist Ibi Zoboi, and featuring some of the most acclaimed bestselling Black authors writing for teens today—Black Enough is an essential collection of captivating stories about what it's like to be young and Black in America.
Black is…sisters navigating their relationship at summer camp in Portland, Oregon, as written by Renée Watson.
Black is…three friends walking back from the community pool talking about nothing and everything, in a story by Jason Reynolds.
Black is…Nic Stone's high-class beauty dating a boy her momma would never approve of.
Black is…two girls kissing in Justina Ireland's story set in Maryland.
Black is urban and rural, wealthy and poor, mixed race, immigrants, and more—because there are countless ways to be Black enough." – Amazon
YA Fiction
E
lizabeth Acevedo: With the Fire On High
"Ever since she got pregnant freshman year, Emoni Santiago's life has been about making the tough decisions—doing what has to be done for her daughter and her abuela. The one place she can let all that go is in the kitchen, where she adds a little something magical to everything she cooks, turning her food into straight-up goodness.
Even though she dreams of working as a chef after she graduates, Emoni knows that it's not worth her time to pursue the impossible. Yet despite the rules she thinks she has to play by, once Emoni starts cooking, her only choice is to let her talent break free."
Tomi Adeyemi: Legacy of Orisha series
Children of Blood and Bone: "Zélie Adebola remembers when the soil of Orïsha hummed with magic. Burners ignited flames, Tiders beckoned waves, and Zélie's Reaper mother summoned forth souls.
But everything changed the night magic disappeared. Under the orders of a ruthless king, maji were killed, leaving Zélie without a mother and her people without hope.
Now Zélie has one chance to bring back magic and strike against the monarchy…"
Children of Virtue and Vengeance: "After battling the impossible, Zélie and Amari have finally succeeded in bringing magic back to the land of Orïsha. But the ritual was more powerful than they imagined, reigniting the powers of not only the maji but also some nobles with magic ancestry.
Now, Zélie struggles to unite the maji in an Orïsha where the enemy is just as strong and magical as they are. When Amari's mother forms an army of royals with newly awakened powers, Zélie fights to secure Amari's right to the throne and protect the new maji from the monarchy's wrath.
But with civil war looming on the horizon, Zélie finds herself at a breaking point: she must find a way to bring the kingdom together or watch as Orïsha tears itself apart." – TomiAyedemi.com
Dhonielle Clayton: The Belles Series 
Inspiration for the Belles series: "Dhonielle writes about things that bother her, and since she was a teenager, she's been irritated by the commodification of women's body parts. Magazines, movies, and popular culture had a profound influence on Dhonielle as a teenager, and she always wanted to change the way she looked down to her bones. After she read Scott Westerfeld's Uglies series, she wanted to answer a similar question about physical appearance, perfection, power, and its intersection in society to start a conversation about what the media does to women and their bodies." –DhonielleClayton.com
Camryn Garrett: Full Disclosure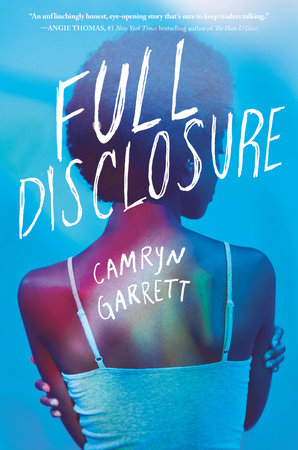 "Simone Garcia-Hampton is starting over at a new school, and this time things will be different. She's making real friends, making a name for herself as student director of Rent, and making a play for Miles, the guy who makes her melt every time he walks into a room. The last thing she wants is for word to get out that she's HIV-positive, because last time . . . well, last time things got ugly.
Keeping her viral load under control is easy, but keeping her diagnosis under wraps is not so simple. As Simone and Miles start going out for real–shy kisses escalating into much more–she feels an uneasiness that goes beyond butterflies. She knows she has to tell him that she's positive, especially if sex is a possibility, but she's terrified of how he'll react! And then she finds an anonymous note in her locker: I know you have HIV. You have until Thanksgiving to stop hanging out with Miles. Or everyone else will know too.

Simone's first instinct is to protect her secret at all costs, but as she gains a deeper understanding of the prejudice and fear in her community, she begins to wonder if the only way to rise above is to face the haters head-on. . . ."
Angie Thomas: The Hate U Give and On the Come Up
THUG is an instant classic and if you haven't read it yet, move this to your next must-read! "The Hate U Give is a 2017 young adult novel by Angie Thomas. It is Thomas's debut novel, expanded from a short story she wrote in college in reaction to the police shooting of Oscar Grant."
"On the Come Up tells the story of Bri, a sixteen-year old rapper hoping to fill the shoes of her father and 'make it' as an underground hip-hop legend."
Renee Watson: Piecing Me Together
"Jade…is a sixteen-year-old African American student attending a mostly white private school in Portland, Oregon on a scholarship. Heeding her mother's advice, Jade works to take advantage of every opportunity presented to her. Hoping to be afforded the opportunity to study abroad so she can utilize her fluent Spanish Skills, Jade is instead offered the chance to be paired with a mentor in the Women to Women program by her school's guidance counselor. Paired with Maxine, Jade initially has high hopes for this mentorship, hopes which are dashed when Maxine proves unreliable and Jade begins to wonder if it is she or Maxine who is getting more out of the program. Through her art, Jade begins to act on the realization that she needs to make her own opportunities."
Poetry
Elizabeth Acevedo: Poet X
"Xiomara Batista feels unheard and unable to hide in her Harlem neighborhood. Ever since her body grew into curves, she has learned to let her fists and her fierceness do the talking.
But Xiomara has plenty she wants to say, and she pours all her frustration and passion onto the pages of a leather notebook, reciting the words to herself like prayers—especially after she catches feelings for a boy in her bio class named Aman, who her family can never know about. With Mami's determination to force her daughter to obey the laws of the church, Xiomara understands that her thoughts are best kept to herself.
So when she is invited to join her school's slam poetry club, she doesn't know how she could ever attend without her mami finding out, much less speak her words out loud. But still, she can't stop thinking about performing her poems.
Because in the face of a world that may not want to hear her, Xiomara refuses to be silent."
Eve Ewing: Electric Arches
"Electric Arches is an imaginative exploration of Black girlhood and womanhood through poetry, visual art, and narrative prose.
Blending stark realism with the surreal and fantastic, Eve L. Ewing's narrative takes us from the streets of 1990s Chicago to an unspecified future, deftly navigating the boundaries of space, time, and reality. Ewing imagines familiar figures in magical circumstances—blues legend Koko Taylor is a tall-tale hero;
LeBron James travels through time and encounters his teenage self. She identifies everyday objects—hair moisturizer, a spiral notebook—as precious icons."
For more reads from Black authors, check out
Refinery29 The Best YA Books Written By Black Women That You Haven't Read Yet
EpicReads 20 YA Books You Need to Read—Especially During Black History Month
LAPL African American History Month: Young Adult Books
What are you reading?  Share in the comments or @missheardmedia on Facebook, Instagram, Twitter! 
Related Reading
Celebrating Black Girls and Women for Black History Month
What Black History Month Means to Me by Alina Wilson
7 YA Books to Celebrate Black History Month by Claire W.