Anxiety Meets Art:
Emo Bunny
by Amaranthia Sepia
This article, "Why Are More American Teenagers Than Ever Suffering from Severe Anxiety" by Benoit Denizet-Lewis inspired me to find "Emo Bunny," a space to be presented to young people.
The comic, "Emo Bunny" is about an anthro-bunny-girl named Sarah with Generalized Anxiety Disorder. It reflects a bit of my experience with GAD. "Emo Bunny: Anxiety Monster" is the first excerpt from the series. "Emo Bunny: Anxiety Monster" is a comic draft I made near the end of 2017. It won the Gold Key in the NH Scholastic Art/Writing Regional Competition 2018. I'm working on a 20-page version of "Emo Bunny: Anxiety Monster", and this show features pieces related to the final version. The purpose of "Emo Bunny" is to highlight the struggles that people with mental illness, specifically people with anxiety disorders, experience almost daily.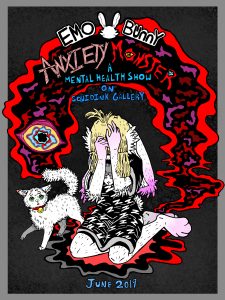 Sarah (Emo Bunny) suffers from an anxiety disorder and severe panic attacks. She deals with day-to-day problems due to her anxiety issues/depression. In this short comic, she deals with a sudden panic attack while trying to go to sleep. Her anxiety is personified as a gruesome monster who harasses her and gets stronger as she becomes more anxious.
Sarah's white cat, Serenity, who is her emotional support animal (ESA) comes to the rescue, ending the panic attack. ESAs are pets who help comfort their owners who have health issues, but aren't allowed to accompany their owners in all environments. The series itself, "Emo Bunny" will detail her struggles while facing anxiety and depression, all while meeting strange and quirky characters as she tries to become a model in a big city. This reflects my experiences of being a child model when I lived in Japan.
***
I will be attending SCAD in winter 2020, which will help me further develop this comic concept. I have an online art show with Squidink Art Gallery with new pieces from the series documenting the main character, Sarah (Emo Bunny), and her experience with her anxiety disorder. The show also discusses my own personal experiences about living with GAD and fighting stigma around anxiety disorders. I'm also selling three t-shirt designs where 25% of each shirt profit will go to the Anxiety and Depression Association of America (ADAA).
My old YouTube video, "Do You Know Who I Am?" Teen Ink's Videos to End Bullying," led to my "I'm Proud of Who I Am" anti-bullying art show project. I did these art shows between 2014-2016 after I left middle school due to severe bullying and a developing health problem. I used this project to start my journey of healing from trauma caused by the bullying – it allowed me to find ways to connect back to my local community. These solo art shows were my first major activist project. "Emo Bunny" is a continuation of my previous activist work.
See the video here:
See current artworks and weekly updates about "Emo Bunny" on my instagram and Twitter:
https://www.instagram.com/emobunnycomic/
https://twitter.com/emobunnycomic
About the author and artist:
Amaranthia Sepia (meaning Eternal Brown Flower) is an artist of African-American and Caribbean descent. At age eight, shortly after returning from Tokyo, she declared her goal of becoming a comic artist, which eventually led to "Emo Bunny," a project based on her experience with Generalized Anxiety, to facilitate conversation about mental illness among young people.