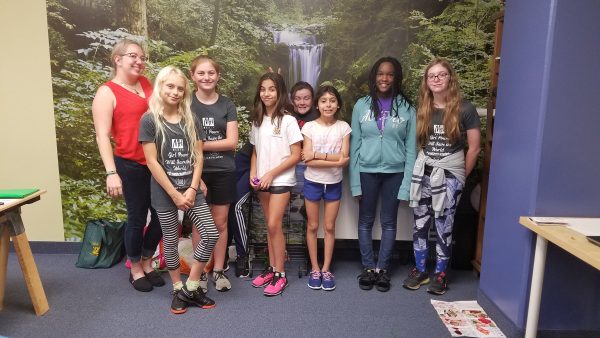 Five Reasons to Come to Create.Make.Lead Summer Camp!
I'm so excited to host the 3rd annual Create.Make.Lead summer camp. This year, there are THREE TWO sessions to choose from:
July 8-12 | July 29-August 2 | August 19-23.
THANK YOU Cathay Future Center for generously offering MissHeard the space to make this possible!
Camps have sold out the last two years in a row, we've already got lots of folks signed up, and it's going to be a BLAST. Here's five reasons to sign up for Create.Make.Lead camp:
Meet new people and make new friends! Meet new people that don't go to your school or live near you AND girls that are creative, crafty, and leaders like you. You will likely have so much in common with the other girls, who you may not get to meet otherwise.
Get crafty and creative! Stretch your creative muscles- it's fun for you and your brain. That will help you all year! You'll be surprised how much your brain gets more creative once you start.
Make a mess! How often do you get to make a total mess making arts and crafts? Probably not often. It's fun to have time to mix paint colors and cut up magazines and cover things in glitter and sequins.
Try new things! We play games and make messes and music and do things together. Hopefully it will be new to you! It's always new to me, even though I've done camp before, because you always get different results. We'll take little tiny risks and try new things and see where it takes us. You may find out you have a hidden talent or passion. All I ask is that everybody try! If you don't like it, you don't have to do it again!
It's better than sitting at home, alone. At first it may be fun to veg all summer, but by week 2 or 3, you're bored and lonely and your Netflix queue is empty. It DOES get boring and lonely, so come to summer camp and have fun with other people like you.
I would LOVE to see you there. It's my favorite week of the year and this year I get to do it three times!  I have so many great activities planned! Space is limited because of the hands-on nature of camp. With three weeks of camp to choose from, you're sure to find something that works with your family's schedule.
Do not wait, do not sleep on this! For just $349, you get a week of creativity and leadership building, with materials and snacks included.
You definitely want to be there!
Sign up now >> https://shop.cathayfutureus.com/product/girl-power-with-missheard-media/
Related Posts: 
Session 1 Recap: Create.Make.Lead! Girl Power Summer Camp at Cathay School
Create.Make.Lead Summer Camp Recap!