Real Life Rad Girl: Diana Vicezar, Mymba Rayhu
November is for a Cause!
Each person has a passion in life, and mine is helping to make the world a better place. There is no greater satisfaction than I feel when I help someone who really needs it. I truly believe that helping is a wonderful action. From a very young age I felt that need to help those around me, that is why I always identify the problems that afflicted my community. A year ago something great began, a process that I can define as the most important act of leadership and community service of my life to this day.
Did you know that throughout Latin America, Asunción, the capital of Paraguay, is one of the cities with the highest percentage of abandoned dogs? More than 45% of the canine population of the capital city does not have a home and are helpless in the streets. For every 10 inhabitants of Asunción, there are 2 abandoned dogs in its streets. Currently, more than 150,000 dogs are stranded on the streets of this city. This problem is aggravated by the large amount of garbage that is generated every day in the capital. It is estimated that around 2,000 tons of garbage are generated per day in Asunción. But here is the big question: What can we do to eradicate these problems? This was the same question I asked myself in September 2017, when I finally got tired of seeing the suffering of these homeless animals and of contemplating every day the way garbage covered most of my city.
I decided that I had to leave my comfort zone to achieve a change in my city. The first thing I did was to talk to my friends about my concern for the two main problems of the community.  I received their support and we created "Mymba Rayhu", an NGO that seeks to raise awareness among the Paraguayan population about the large percentage of abandoned dogs and the alarming amount of garbage that is generated. Our main objective is to recognize the importance of recycling to care for our environment, and through the construction of shelters with fully recycled materials for abandoned dogs in Asunción, we can help abandoned dogs. We found the solution in the middle of the problem, and what we considered trash a few years ago, today we use it as raw material for the construction of shelters. Our main construction materials are plastic bottles and milk boxes, which we collect through the city's neighborhoods. Starting with this project was definitely a great challenge in my life as a leader.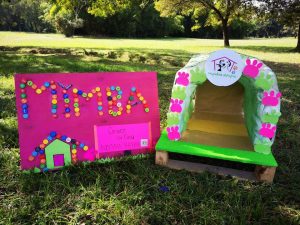 When "Mymba Rayhu" began, we did not imagine how successful it would be in the future. In less than a year we built 25 shelters, which were distributed in parks and other public spaces in different cities of Paraguay. We also had the opportunity to generate impact in the media and social networks. Mymba Rayhu was recognized in more than 30 written, television and radio media, both national and international.
Currently, Mymba Rayhu is considered a reliable organization that reached not only people living in Asunción, but also people from other cities and other countries. With the construction of shelters, we have reached more than 500 people and we received the Youth Excellence Award granted by the Asunción City Council. Personally, I was recognized as Youth Ambassador of Paraguay, an award given by the Embassy of the United States in Paraguay. Currently, thanks to Mymba Rayhu, people in Paraguay recognize the importance of taking care of our animals and the environment.
Thanks to Mymba Rayhu I learned that if you want something different, you have to do something different and face all the challenges. When I had the idea to create Mymba Rayhu, many people did not want to support me because they thought I was too young to lead such a project. Although many people called me crazy, I always trusted myself, my team, and my idea. When they saw the results of that "crazy idea," they realized that doing something different could have more impact in the world and that young people can make the change. All human beings have been forced to stay in our comfort zones, but I think it is better to take risks to achieve the goals we have.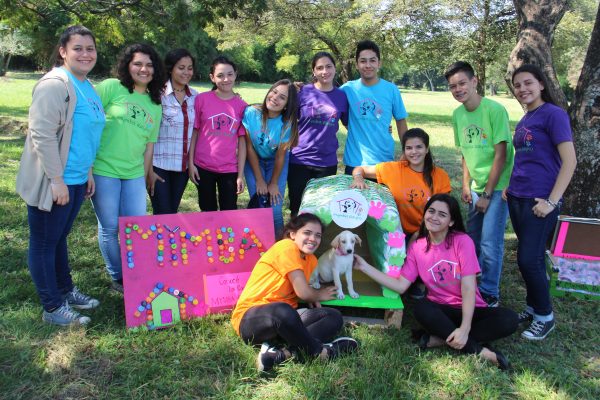 Being part of Mymba Rayhu I am filled with pride every time I see a dog in the shelters we build. Every time I see my compatriots helping animals or recycling is when I feel more than proud to be part of Mymba Rayhu. But above all, I feel proud when I realize that I am not mistaken in thinking that the most important thing about human beings is their empathy. I will remain in this role for the next years because there is no greater satisfactions than I feel when I work to make Mymba Rayhu accomplish its goals. The experience of helping is the one that every day helps me to improve as a human being. I am a leader who wants to make a difference and being part of this NGO is the first step to generate a positive change in the world. This is how I realize that when we help with passion, others also feel the desire to help.
Diana Vicezar is a 17 year old living in Paraguay and the founder of Mymba Rayhu. 
Related Reading
Calling All Writers: November is For a Cause!
Real Life Rad Girls: Mena and Zena, Girls of the Crescent!