Indigenous Youth Activists to Follow
in honor of Indigenous People's Day
by MissHeard Media
Today is Indigenous People's Day, a day to celebrate and uplift the Native nations and First peoples of this land, their histories, and their cultures. The day acts as a counter-celebration to Columbus Day and was first celebrated in 1989 in South Dakota. Indigenous People's Day was adopted by Berkeley, CA in 1992, on the 500th anniversary of Columbus's arrival in the Americas. This year, Washington, DC voted to replace Columbus Day with Indigenous People's Day, joining over 100 cities and seven states.
November is Indigenous History Month, a month to celebrate and honor the cultures, heritage, and contributions of Indigenous people.
Colonialism decimated Indigenous peoples, cultures, religions, and languages. Beginning in 1819, The Civilization Fund Act funded white Americans who moved into Native nations to "educate" and "assimilate" Indigenous peoples into white society by placing children in white boarding schools, removing them from their families and cultures, forbidding them from practicing their religions, or speaking their languages. Many federal and state laws denied Native peoples basic human rights; the Indian Civil RIghts Act passed in 1968, and today, may Indigenous peoples are still fighting against poor economies, low graduation rates, violence against women, the destruction of land, voter suppression.
In honor of Indigenous People's Day, we are highlighting some young Indigenous activists that you should know! These young people are joining in the generational battles for clean water, for sacred lands, and for issues that impact Indigenous peoples all over the world. These youth are determined, passionate, and engaged, even in the face of centuries of colonization, discrimination, and violence. These youth activists deserve your attention!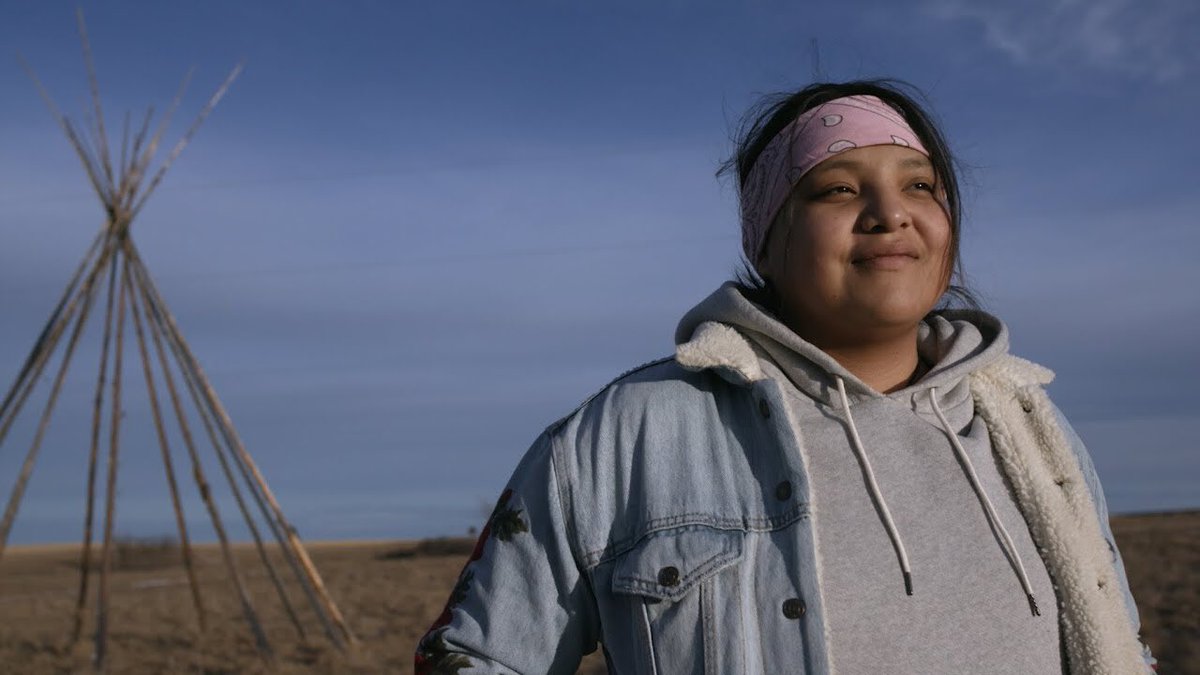 Jasilyn Charger – Cheyenne River Sioux, 23, she/her
Jasilyn's mother taught her and her twin sister about marches and meetings in the Black Hills (South Dakota). Jasilyn attended One Mind Youth Movement meetings, an organization founded by her friends where attendees discussed racism. Jasilyn was one of the people chosen to fly to DC to speak at the Our Generation, Our Choice march.
Guided by her nephew and mentor, Joseph White Eyes, Jasilyn took on larger organizing roles. In 2017, they brought together Oceti Sakowin (or Seven Council Fires) youth to complete a cross-country run to bring attention to the Standing Rock crisis and oppose the DAPL. The run was completed successfully and the youth met with the White House, although the DAPL was constructed anyway.
Charger founded the International Indigenous Youth Council with other female-identifying and two-spirit people who participated in the Standing Rock Indigenous Uprising. The IIYC seeks to "organize youth through education, spiritual practices and civic engagement to create positive change in our communities" and protect land, water, culture, ceremonies, enact social justice through non-violent action and organizing, and to inspire other youth to lead.
View this post on Instagram
Autumn Peltier — Wikwemikong First Nation, she/her, 13 | Instagram
Autumn Peltier is a water warrior. Her first foray into activism was at the age of eight, inspired by her aunt Josephine Mandamin, founder of Mother Earth Water Walkers. From a young age, Peltier knew that not all people living in Canada had clean water. Peltier has spoken at the Assembly of First Nations, Prime Minister Justin Trudeau, and the UN.
Autumn received a nomination for the International Children's Peace Prize and serves as the chief water commissioner for Anishinabek Nation, a position previously held by Mandamin.
Xiuhtezcatl Martinez – Mashika People, he/him, 19 | INSTAGRAM
Xiuhtezcatl may be one of the youngest climate speakers, giving his first talk at age six and organizing his first protest at age 8. He has given three TED Talks on climate change and has addressed the UN. Martinez is one of 21 youth plaintiffs, ranging in ages from 9 to 20, involved in the Juliana v. US case, suing the government for failing to act on climate change.
Xiuhtezcatl received a community service award from President Obama and served on the President's youth council. He also received the Peace First Prize, among many other awards. Xiuhtezcatl is the author of We Rise, the founder of Earth Guardians, and writes hip-hop with his sister, Isa.
View this post on Instagram
Charitie Ropati – Kongignak, she/her, 18 | INSTAGRAM
Charitie serves as a student representative on the Native Advisory Council in the Anchorage School District. Her goal is to "decolonialize the western standard of education." Charitie is an advocate for Indigenous students, who have high drop-out rates and low graduation rates. One way she empowers youth through the development of history lessons that teach to students in her district. Charitie also got her school district to allow cultural regalia at graduation. She won a YWCA Young Person of Achievement award and will attend Columbia University to study civil engineering.
Jordan Marie Brings Three White Horses Daniel – Kul Wicasa Oyate, she/her, 30 | INSTAGRAM
Jordan started running when she was ten years old, inspired by her grandfather, a distance runner at USD and her mother, a sprinter who trained for the Olympics. Although she wasn't sure she could ever "love running," it led her to her purpose: raising the voices and stories of Indigenous youth.
Running the Boston Marathon in 2016 gave her the space to use running for advocacy. In 2016, Daniel organized the Run for Water Rally in DC to oppose the DAPL. She ran in San Diego Half Marathon in order of Missing and Murdered Indigenous Women and Girls, wearing a red handprint on her face and red letters on her legs. Four of every five Indigenous women and girls experience violence and are murdered at a rate 10x higher than the national average. Of 5,712 cases of missing Indigenous women, only 116 were registered in the Department of Justice website.
Daniel is the founder of Rising Hearts and hopes to qualify for the 2020 Olympics.
Naelyn Pike — Chiricahua Apache, she/her, 17 | INSTAGRAM
At 17, Pike is an avid environmental leader and Indigenous Rights activist. She leads the Apache Stronghold with her grandfather and mother, fighting to stop a mining project that would level Oak Flat, a sacred site to the Apache people. She has spoken at schools and conferences, passionately inspiring youth people to fight for racial and environmental justice.
EllaMae Looney — Confederated Tribes & Bands of the Yakama Nation, she/her, 18 | INSTAGRAM
Language is a crucial part of culture and identity, and language and culture impact one another. Having your language stripped away takes away a part of your culture and your ability to express yourself in the way you feel comfortable and confident.
EllaMae is using language to heal and revitalize Native youth in Oregon. She is learning all three Native languages spoken in her community: Walla Walla, Nez Perce, and Umatilla. EllaMae is surveying youth to learn how to best teach language.
To learn about more Indigenous Youth Activists, visit
Center for Native American Youth and the Youth Advisory Board
Related Reading
Girl Power Will Save the World: Climate Activists to Watch
Youth Activists: Summer Reading List
American History: Centering Youth Activism by Lindsey Turnbull