Sailing, Science Sisters Forever with eXXpedition, Leg 3
by Lindsey Turnbull
(Definitely not a scientist or sailor!)
I have no idea how to tell you this story. How to summarize a week that surely changed my life. How to communicate all the lessons learned in a whirlwind. How to introduce you to my new superhero sisters at sail. I guess I'll start at the beginning!
eXXpedition is sailing a two year voyage, 38,000 nautical miles, around the world to research ocean plastics across the globe. The trip is broken up into 30 legs, each leg boasting 10 guest sailors, led by a mission leader. Everyone, including the Skipper, First Mate, and Deck Hand, are women/identify as women. I am extremely grateful I got over my youthful girl-hate so I could even apply for such an opportunity!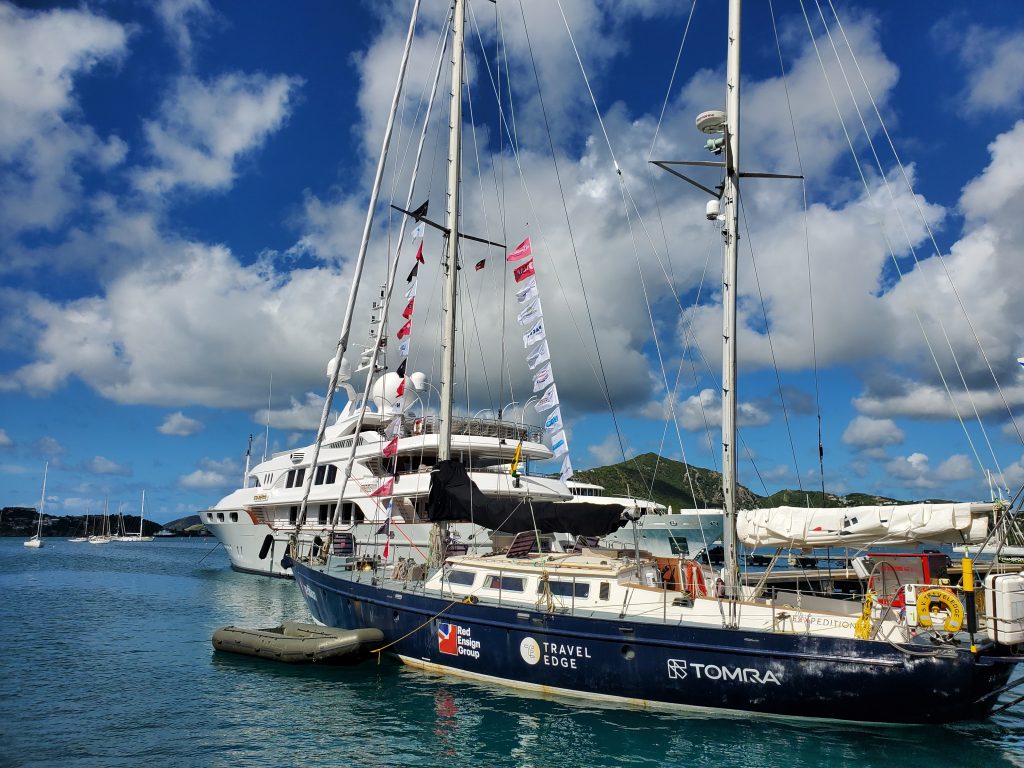 I applied to eXXpedition on a whim. The mission of researching ocean plastics, finding solutions, and being a model for women and girls in STEM seemed like a great fit for me…even though I have no background in STEM or sailing. What the heck? They could always reject me.
But they didn't. 
I was chosen, along with nine other women to sail under the direction of mission leader Sally Earthrowl, Skipper Anna, First Mate Maggie, and Deckhand Sophie. At first glance, we had little in common, other than some sort of connection to the ocean. Over the days, I learned that we shared an intense drive, resilience, and passion.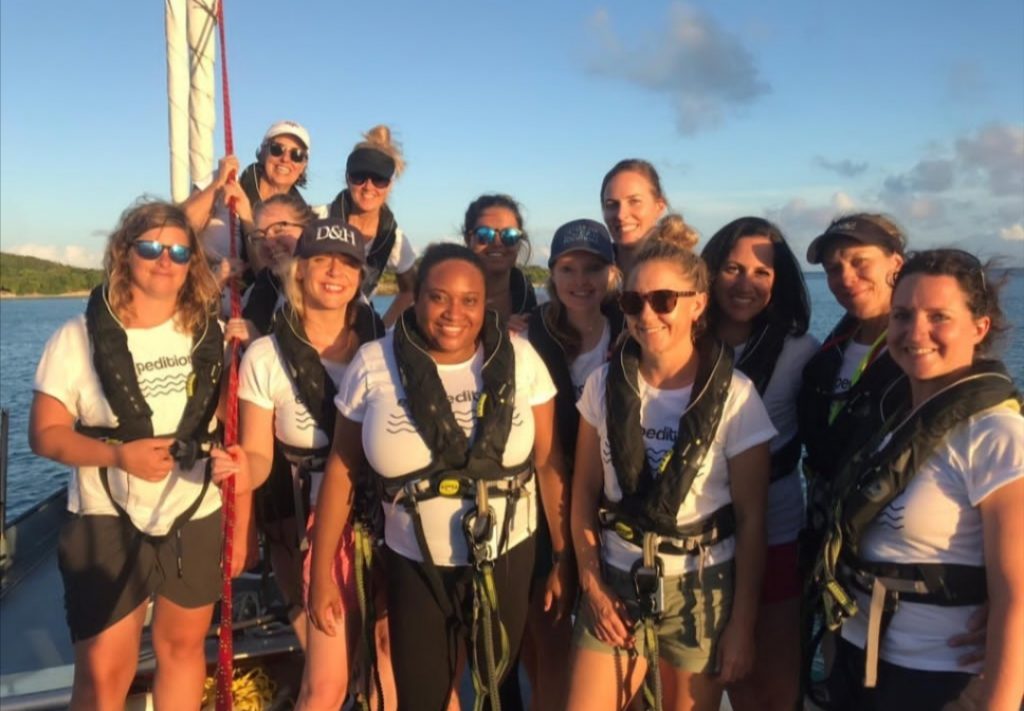 I easily felt love and awe for everyone around me. Everyone is so accomplished. Kristen is an actual PhD in the field. Leah studied marine ecosystems in grad school and is a certified diver and teacher. Jeanne is a legit award-winning Skipper who captained the first-ever women's team to win the Race to Alaska (on a boat without beds, showers, or toilets). Kirsten is a therapist, with the most calming presence. Jeanine got the first ever environmental legislation passed AND wrote a children's book. Chantal is a true creative spirit who writes poetry as easily as I breathe. Lisa, Stephanie, and Lara are creative, passionate women, well-regarded in their careers-and are a blast to be around. And Sally, our beloved mission leader and educator, is organized, detailed, and so knowledgable.
The Sailing, The Science, The Chocolate! 
During the day, we learned the ins and outs of winching and flaking the massive sails. The pro crew makes it look easy, but it is definitely hard work! This is also when all hands were on deck, carrying out the important scientific research. Each day, we took three kinds of samples: sediment, subsurface, and surface.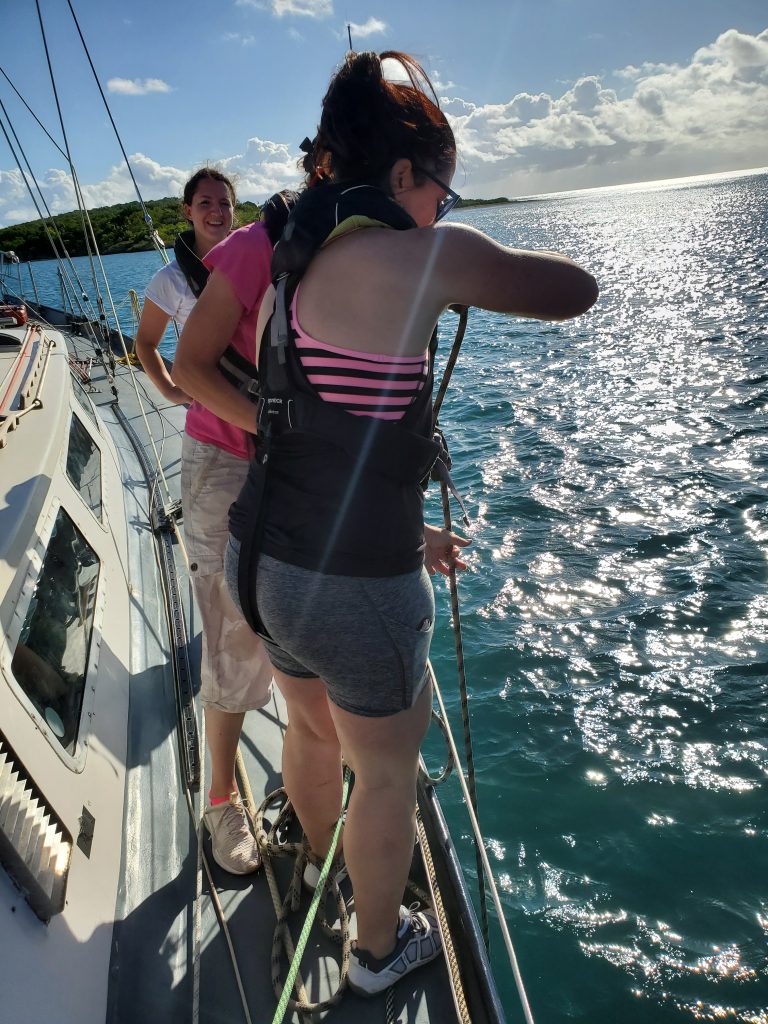 First, we deployed a sediment grabber, which is more or less the claw from an arcade game (but heavier). Chantal, Jeanne, Sally and I lowered the grabber about 30 fe
et, grabbing a healthy sediment sample. Using a spoon, I scooped little samples of sediment into carefully labelled cups, to be sealed, frozen, and sent back to a fancy lab for examination under powerful microscopes. Each day, we did this three times. The labs are looking for- and will undoubtedly find- miniscule pieces of plastic (microplastics) that are not visible to the naked eye.
These microplastics are consumed by algae, corals, fish, etc., and move up through the food chain, landing, eventually, on our plates…if they don't kill the marine life first. With a belly full of plastic, an animal cannot eat or digest actual food.
After taking five sediment samples and setting sail, the team deploys three Niskin bottles, giant fancy bottles that drop far below the surface, snapping shut when hit by a weight, collecting a true sample. They're heavy duty, real science equipment, but there's a little luck to it too. If the weight isn't deployed right, the bottle won't close, meaning we have to do it all over again. The trick, swears Sophie and Maggie, is to whisper "Find the Niskin" to the weight before flinging it down the line.
The bottles are brought below decks  and the sample is pumped through a series of filters; the smallest, thinnest ones preserved for lab examination. There's even a filter sitting on the table as a control, lest any of us shed microplastics nearby.
Finally, we deploy my favorite piece of equipment: The Manta Trawl. This hand-build metal thing looks like a pile of scrap on deck, but in the water, resembles a manta ray. It trawls the water's surface, alongside the boat for one nautical mile. Then, it gets pulled on deck and the contents of its net washed and collected for examination. We do this twice daily.
Did I mention that all of this takes an incredible amount of teamwork?
Literally everyone on the boat had at least one task to do- all of them required a lot of physical effort! It's pretty cool that we're actually doing The Science. It's not as challenging as I imagined- that's all in the lab work, analysis, and writing. It all needs doing, and it turns out, science is a team sport. For someone who steered pretty clear of the STEM fields in high school and college, I'm relieved that this is something I can do!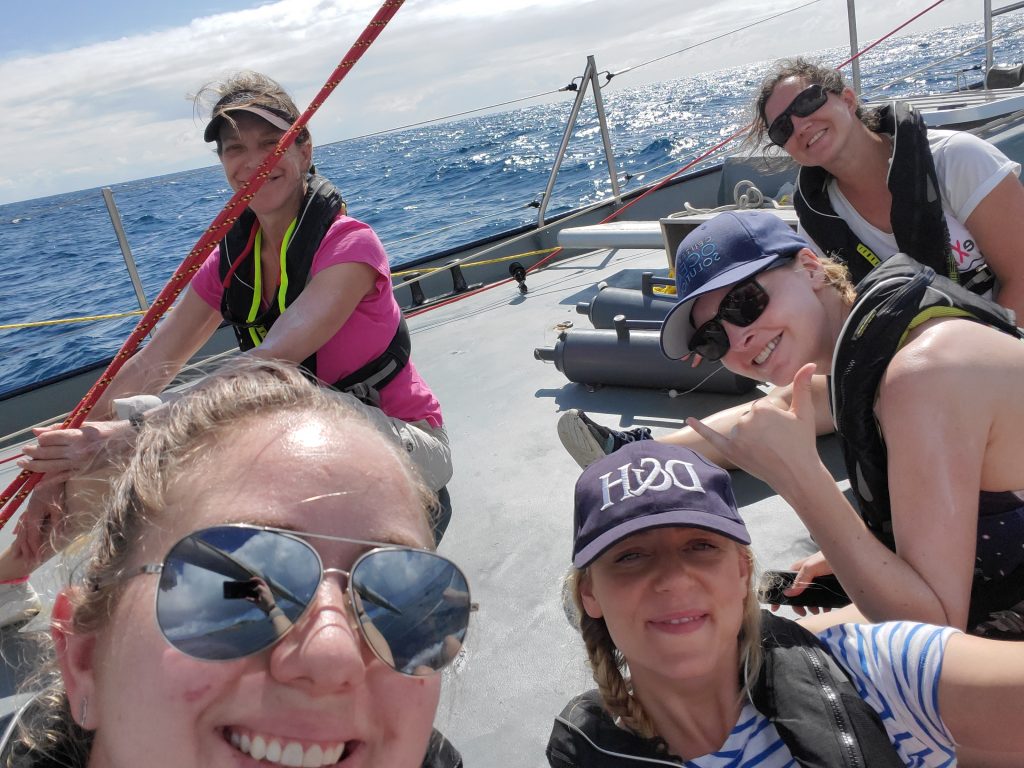 Look ma! I'm contributing to important, world-saving research!
At night, we cook, eat, and clean collectively, everyone sitting around delicious smelling bowls of vegetarian food. We talk easily, laugh loudly, and sing often. We're also assigned to night watch teams, sitting under the stars and talking about our lives, making sure the boat doesn't drift out to open sea. It doesn't matter that our hair is unwashed, that we're sweaty and smelly, or that we're all so different. Conversation is always so comfortable, and each sailor has unique gifts and stories to share.
There's also science (and chocolate, and singing) at night: examining samples under a microscope, and looking at them in an FTIR machine, a special machine with a laser that can identify different types of plastic polymers.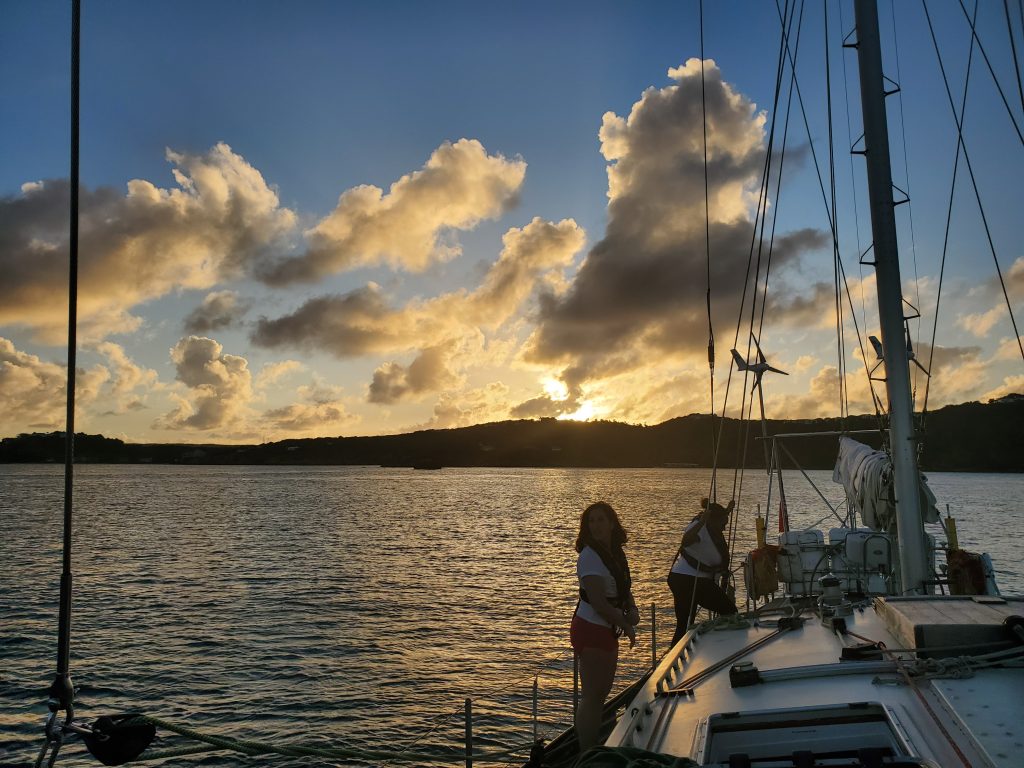 Can't beat the views on our beautiful boat, eXXpedition
On board, I got a crash course in plastic and pollution. Here's some of what I learned: 
Plastic doesn't break down, it breaks apart, into smaller and smaller pieces, called microplastics.
Recycling is great, but it's not a silver bullet. When plastic is recycled, it degrades. A bottle cannot be made straight into another bottle, like a tin can or glass bottle can be made into another can and bottle.
Recycling has a lot of holes. Not all communities, counties, states, countries follow the rules, and much of it ends up in landfills, or being burned (which is really bad for the planet, the air, and us).
There are some studies showing that plastic (especially BPA) can make us sick by disrupting our natural hormones.
Plastic is found in all sea life, including sea life living in the deepest parts of the ocean.
Each and every sample found by eXXpedition has microplastics in it.
It sounds bleak, I'll admit. There's plastic in everything, all around us- much of it microscopic. What are we supposed to do? How do we stop and reverse this trend? We're staring down a mountain of damning, heartbreaking evidence that shows that we are killing and poisoning our planet and ourselves.
And as contradictory as it seems, on the SV Travel Edge, all I feel is optimism. We hold a roundtable discussion and launch our personal action plans, smushed into the common table. At this table, surrounded by smart, strong, savvy, women, laughing and brainstorming, I can only feel hopeful.
I've been listening to these women tell their stories: bravely, boldly, vulnerably, and without shame. And I know, more than I have known many things, that we are committed and capable and determined.
We have two special missions, in addition to the science.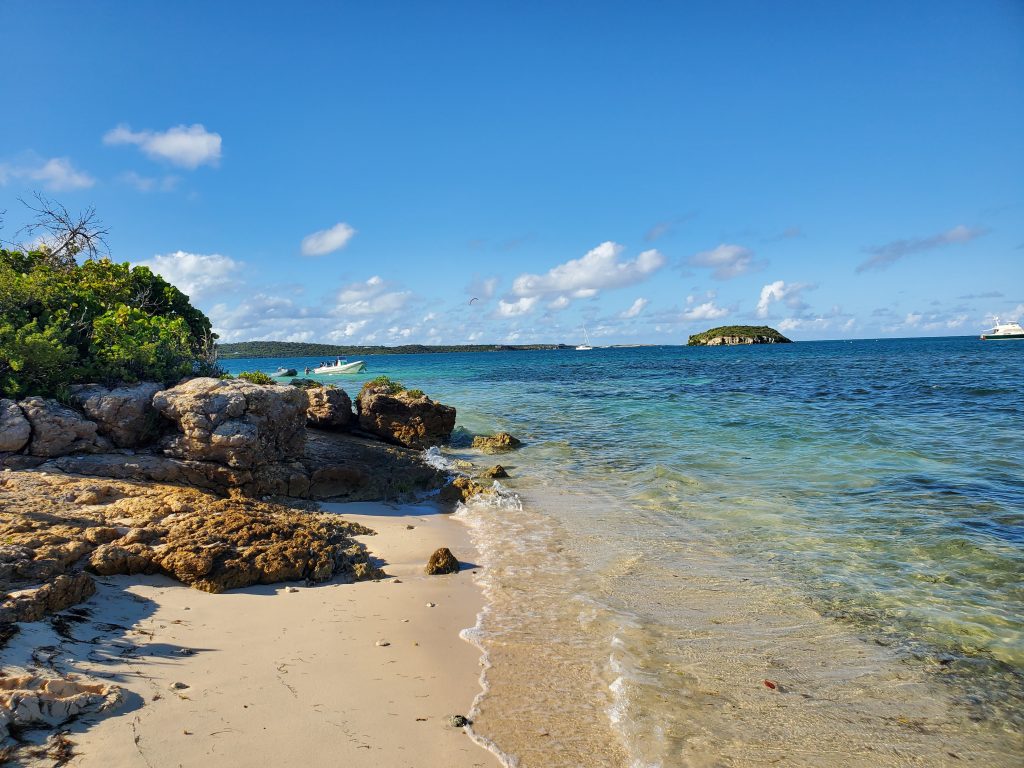 The first is a beach survey and clean up of Green Island, a privately-owned island off the cost of Antigua. People swore we wouldn't find much there because it's not heavily trafficked. And to their credit, it is beautiful; white sand bordered by shimmering turquoise water and lush, green vegetation. The only humans in sight- less than 10 kite surfers- have permits to be on the island.  And yet…
In a survey of roughly 900 feet of beach, we filled six massive (reuseable) bags with fishing nets, rope, plastic bottles, glass, nylon straps, a laundry basket, and countless pieces of plastic, too small to identify. We also found a tiny baby doll, which we named Bobby, and took with us as a mascot. All this, on a beach that looked pristine.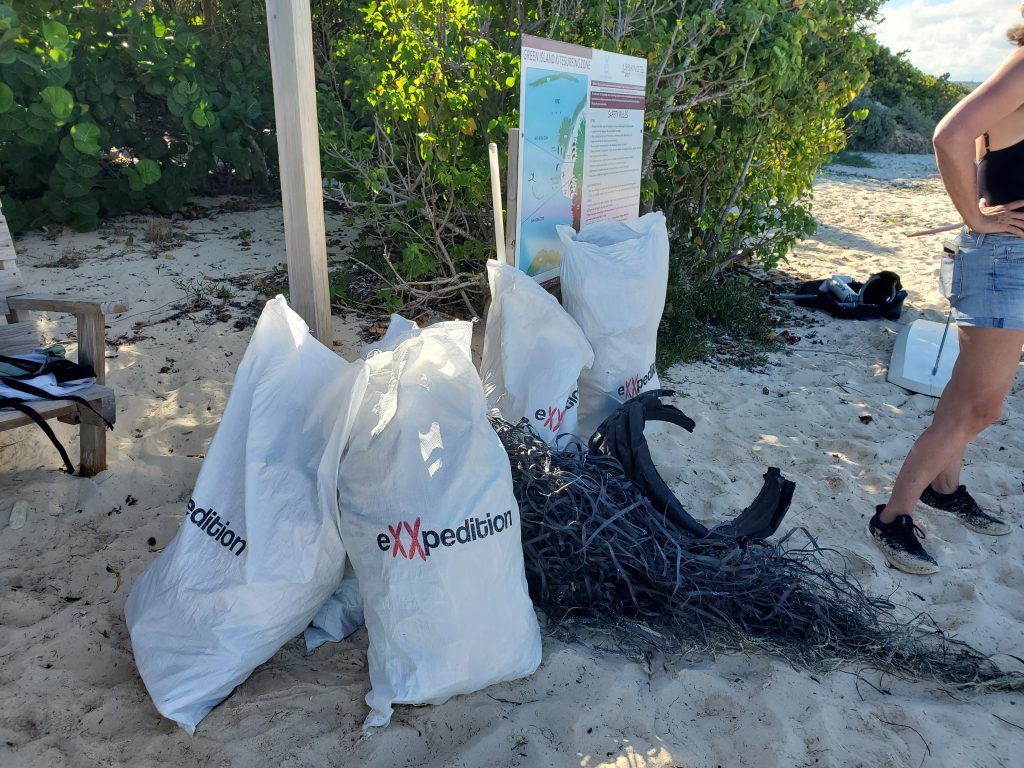 Our other special mission is to visit a primary school to tell them about eXXpedition, science, women in STEM, and come up with ideas to reduce plastic in the ocean. At the school, children drag chairs out from their classrooms and set up in neat rows under a pavilion. It's a mixed group of boys and girls, from about 3rd to 5th or 6th grade.
I step up to talk, feeling right at home, using my booming voice and big hand gestures to tell the everyone what we're doing: sailing around the world to research ocean plastic AND show the world what a group of women can do!
In an island nation like Antigua, nearly every student has a connection to the ocean. They grow up fishing, swimming, and snorkeling, and their families' livelihoods most likely comes from fishing or tourism. Leah gets the children pumped up and excited. Lara breaks down the difference between plastic like that in the medical field and single-use plastic, like the kind that lines a coffee cup or makes a plastic bag.
The children ask questions- they're so incredibly astute and curious. They're so passionate about protecting the ocean and all of her marine life. They are excited to learn and ready and willing to make changes. We encourage them to, whenever possible, forgo plastic and reuse when they can. These are simple steps that we can all do and feel proud for doing.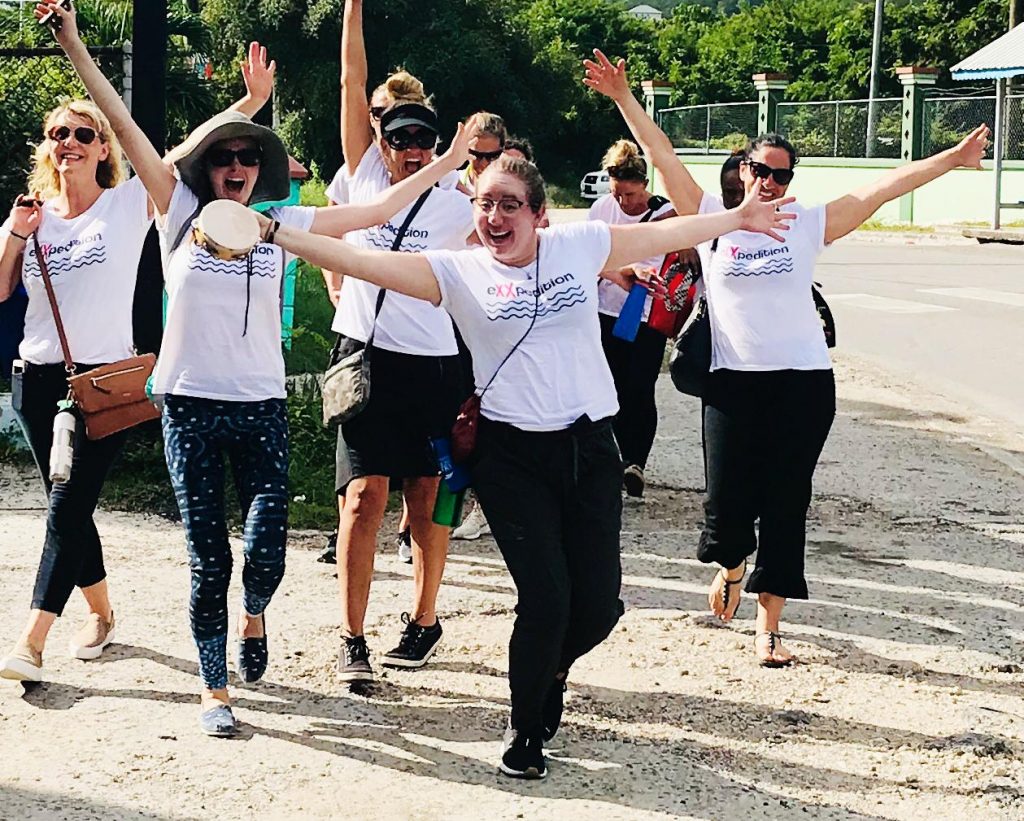 I feel so privileged and honored to be chosen as one of 300 women to be a part of this crucial mission. The 13 women I sailed with are my new sisters at sea, dedicated warriors, forces for good. I came home with salty hair and a heart close to bursting with love and purpose.
This blog is, for me, the first of many tasks I plan to undertake to help reduce plastic on land and in sea. You can get involved too!
So now what? 
Reducing plastic is a HUGE problem that requires many minds and hands to solve. There are changes that need to be made in all levels of society- and it's not a change that will happen overnight. We need change at many levels- and as small as they may seem, the choices you make matter and can cause a ripple effect.
Here are some things you can do right now:
Do a personal audit and really look at how much single use plastic you are consuming in a day, a week, a month. Once you really see how much it is, and how prevalent plastic is, it is hard to un-see.
When possible, simply do not use single use plastics. Carry your reusable bottle, cup, bag, and straw- even a reusable utensil set. (If you need to use a plastic straw, by all means, do.)
Recycle and reuse whenever possible. Donate your clothes if they're in good condition. Shop secondhand. Put things in their proper recycling bins. Return plastic film, packaging, and bags to the grocery store.
Avoid 'wish-cycling.' Don't recycle the things you *think* should be recyclable. Your coffee cup is lined with plastic, meaning it cannot be recycled (unless otherwise indicated), only thrown away. Putting non-recyclable items in with recyclables can contaminate them and leave them worthless meaning an entire pallet ends up in the trash. Check your county's recycling programs.
If you're on the go, try to purchase things in glass or tin. They can be more easily and effectively recycled.
Talk to your friends and family. You are an influencer!
Write to your elected officials, your favorite stores, and companies, to ask about their position on single use plastic. Urge them to switch to sustainable materials- or opt to shop at stores that already have sustainable practices in use.
Here are things you can do as a family, school, or community:
OceanChangemakers has a whole, free-to-use toolkit with ideas for action and solutions. You can search for projects for youth, individuals, families, etc.
Visit the recycling plant in your area to learn more about the process and where it all goes.
Hold a clean-up in your area and see what you find. Use the results to encourage your neighbors to re-think their habits.
Start a recycling program at your school, if there isn't one (and the county has one).
Write letters, call, visit companies, elected officials, organizations, etc. that do not have sustainable practices. When we come together, our voices are more powerful.
Find creative ways to reuse things. Can a bunch of old plastic bottles have new life as a sculpture? Can the local animal shelter re-purpose old plastic shopping bags?
Host a community recycling day where everyone brings their unwanted goods and they get taken to be properly disposed of. This is especially important for things like electronics.
Plant some native trees and plants! This isn't directly related to plastic- but they keep the local ecosystems thriving.

I am so honored to stand alongside these amazing women <3 Photo by Lisa
What are you doing in your community to refuse, reduce, reuse, recycle? Share your stories, ideas, and more by reaching out to @missheardmedia on Instagram, Twitter, and Facebook, or by using the contact page. 
All photos by me, except where noted. These are my views and may not reflect the views of my fellow sailors, pro crew, mission leaders, and/or eXXpedition.