All the Women in My Family Sing:
Interview with Deborah Santana
Deborah Santana is the editor of the powerful new anthology All the Women in My Family Sing, a collection of poetry and prose by 69 women of color. Santana is an author, business manager, and activist for peace and social justice. Her non-profit, Do A Little, serves women and girls in the areas of health, education, and happiness. With a passion to provide educational opportunities for girls and women, Ms. Santana collaborates with organizations that work to prevent and heal relationship and sexual violence, improve the lives of America's abused and neglected children, and a worldwide community of artists and allies who work for empowerment, opportunity, and visibility for women artists.
For More Information Visit: https://www.amazon.com/All-Women-My-Family-Sing/dp/0997296216
What inspired you to create a book about motherhood (and daughterhood)?
All the Women in My Family Sing is an anthology of women of color writing about their experiences in the world, including the ways in which motherhood and daughterhood have affected their lives, how mothering is the ultimate responsibility and gift as well as a powerful connection for life.
There are so many different women represented in this book. Is there a common thread that you noticed?
The common threads are inherent and learned strength, courage, love and healing.
After working on this book, what is one thing you think teen girls should keep in mind about their mothers?
There is tremendous pressure for teen girls to listen to other teens for information about the best ways to live. Teen girls should listen to and believe in their mothers' wisdom.
And what is one thing moms should remember about their teen daughters?
As mothers, we must remember that our teens are building their own platforms from which to live, and as much as we want to protect and guide them, we must release them to discover their own voices and paths.  It is such a dichotomy to share our wisdom while respecting their search for personal truth and attempting to trust their nascent wisdom.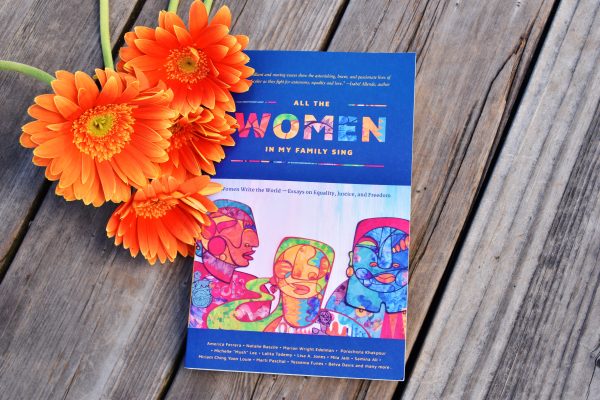 Was there an essay that particularly surprised or touched you?
Natalie Baszile's essay Home Going, about her research trips to Louisiana to write Queen Sugar, surprised me with revelations about the racism her father had experienced decades earlier and the racism she experienced currently.
Tammy Thea's essay Escape From the Cambodian Killing Fields touched my heart deeply with her loss of 37 immediate family members during the Khmer Rouge's rule.  Her courage in fleeing Cambodia and ultimately arriving in America and owning Tammy's Nails in California humbled me.
What do you hope adult and teen readers will take away from All the Women in my Family Sing?
My hope is that all readers of our anthology will be inspired by the themes of authenticity, success, struggle, creativity and dignity and want to tell their own stories.
What is the best piece of advice your mother gave you?
My mother, Jo Frances King, an Irish English woman who married an African American man in 1948 told my sister and me to "not jump off a cliff just because others did." In other words, think for myself.
Twitter:           https://twitter.com/NBTTpublishing
Instagram:     https://www.instagram.com/allthewomeninmyfamilysing/
Instagram:     https://www.instagram.com/Nothingbutthetruthpublishing/
Facebook:     https://www.facebook.com/allthewomeninmyfamilysing
Facebook:     https://www.facebook.com/NothingButTheTruthPublishing/
Related Reading: 
Meet Real-Life Rad Girl: Jacquelyn Graves Wilson
My Letters, My Comfort: A Personal Narrative by Tara Kimbrough
A Seven Year Nightmare : The Journey of Finding and Freeing Myself by Jourdan Lobban