Supporting Your Teenage Daughter: A Virtual Parent Seminar
Hosted by Lindsey Turnbull
Pay What You Wish!
Are you safe at home, in close quarters with your tween/teenaged daughter? Looking for resources to expand your parenting knowledge? I've got you C O V E R E D!
Register for the Supporting Your Teen Daughter virtual seminar, beginning April 22, at 6 pm Eastern.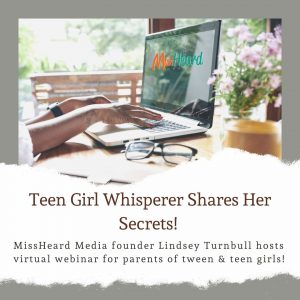 In this seminar, parents, guardians, and trusted adults will learn:
The RAPID changes the teen brain is undergoing and how it affects your daughter (and you)
The most effective communication tips to stave off a shouting match
Essential things all teenagers need to thrive
PLUS extra goodies on what all this means for your Quaran-teen
PLUS printable info that you can refer to again and again
PLUS the chance to ask a Teen Girl Whisperer any burning questions
I want to serve the MissHeard community, because we're all in this together, so I am offering this seminar (valued at $150) as Pay-What-You-Wish! No one will be turned away because of an inability to pay. (A $35 donation is greatly appreciated, but not required.)
Are you ready to unlock the Teen Girl Whisperer's Secrets? Mark it on your calendar: April 22, 6 pm Eastern.
Register now >>> http://bit.ly/MHvseminar 
And bring a pen and paper for notes!
About Me: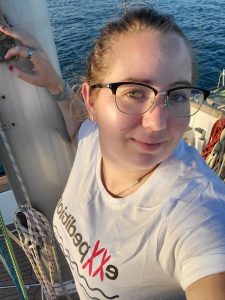 I'm Lindsey Turnbull, the owner and Teen Girl Whisperer of MissHeard Media.
I've been doing the on-the-ground, empowering girls work for over a decade AND I'm an expert researcher (really, I have an MA in history)! So I 1. know all about tween and teen girls, 2. I have read endlessly about this topic, and 3. will present all the best info to you in an organized fashion.
I'm super excited to share all of my secrets with you in this webinar!