Live Events: Consulting and Speaking
Consulting
With nearly a decade of experience and a background in research, MissHeard Media founder Lindsey Turnbull can help your organization reach more young women where they are through engaging workshops, marketing, and facilitating.
Lindsey has worked with:
Montgomery County Women's Commission
Community Bridges
Girls Inspired, Inc.
BRYCE Project
Catylator Makerspace
Girl Scouts National Capital
to create fun and engaging experiences for tween and teen girls.
"Awesome organization empowering young women! And Lindsey does such a great job connecting with people. I am so glad to see such a wonderful organization like this available to young girls!" -Stevie Croisant, We Are HER Founder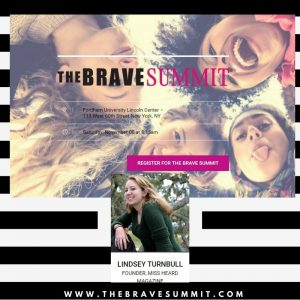 Speaking
MissHeard Media founder Lindsey Turnbull is an experienced, authentic, and engaging speaker for tweens, teens, parents, and educators. Lindsey speaks on a number of topics relevant to teenage girls and classrooms including: facing failure and perseverance, entrepreneurship, and encouraging female friendship. She can tailor a custom talk to your organization, for a variety of time slots. Available for keynotes, panel discussions, and emceeing!
Lindsey has spoken at events, conferences, and panels including:
The Nora School, Silver Spring, MD
University of Central Florida Women's Studies Fundraiser, Orlando, FL
The Brave Summit for Girls, NYC, NY
 E.B. Wood Middle School, Silver Spring, MD
Girls Inspired Inc. Day of Service, Alexandria, VA
Gaithersburg Academy Day School, Gaithersburg, MD
Delta Formation Conference, Silver Spring, MD
"As a session leader Lindsey was poised, very knowledgeable, easily flowed through content, and kept the attendees engaged. Her pacing was spot on and was the perfect length from timing and audience interest perspectives. Lindsey was super prepared and even had student handouts and parent resources to take home." - Melissa McKenna, Women's Legislative Briefing
For information on our Live Events: Full and Half Day workshops, please click here.